Let's Talk Bookish is a weekly meme hosted by Rukky @ Eternity Books and Dani @ Literary Lion. When I saw this meme, I was quite keen to get involved as I like thinking about books and reading outside of just reviewing. One of the reasons I started this blog was to explore literature more, so this seems like the perfect opportunity.
This week's question was suggested by Jillian @ Jillian The Bookish Butterfly.
Are Big TBRs a Result of Abibliophobia?
Abibliophobia is the fear of running out of things to read. Do I suffer from this? Ish. What I fear is running out of things that I want to read. There are infinite stories to be told and so many authors to discover that I never believe I will run out of things to actually read.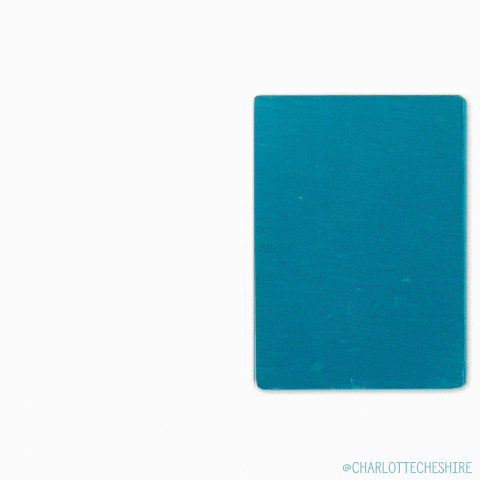 However, if we aren't scared of running out of things to read, where do these big TBRs come from? I see some people doing posts about thinning out the thousands of books they have on the list. I define my TBR by what I have at home and books I want to read. I will often add books to my Want To Read category on The Storygraph because they look good and I don't want to forget about them. In total, there's probably about 200 but I'm not keeping count.
This is where I believe that social media is a double edged sword; thanks to blogs and Book Twitter, I've found so many interesting recommendations that I otherwise might not have picked up. How sad would that have been? However, I sometimes feel a bit overwhelmed by the amount of books there are to read! It's not like they are going to stop – they will keep on coming. It's a never ending deluge of books! I'm spoilt for choice!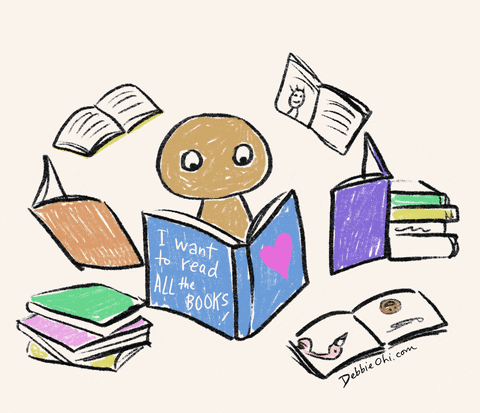 An infinite choice is quite daunting really. I find myself scrolling for ages through BorrowBox, my kindle or staring at my bookshelves to decide what to read. The choice can actually be quite crippling. Books, for me, are very accessible (I know this isn't the case for all, some I'm very priviledged in that regard) as I can get them on my Kindle, through the library, as well as being able to afford to buy them. Kindle sales at 99p make things just so hard to resist! I can't miss out on that deal! FOMO takes over. I'm scared of missing out on a book that I will fall in love with.
I've blogged about the impact of smartphones, social media and reading on mental health before. Sometimes, I feel the pressure to read a book because I want to discuss them with others and join in with the conversation; that's one of the most powerful things about reading – being able to share the joy of a wonderful story! In the past, I would have read one book at a time. Now, I'm reading 3 or 4! A lot of the time I'm too excited about reading to actually concentrate. The pressure to keep up is huge. Am I the only one who feels like this? Or is this an expectation I put on myself? Either way, it's not helpful.
At the beginning of the year, I saw a lot of people sharing their reading goals for this year. But there was also an outcry of posts to remind people that reading isn't a competition. Reading should bring us joy. With social media, it's so easy to compare ourselves to others – who reads the most books, who buys loads of beautiful editions, who always have the latest releases, who get the hottest and most coveted ARCs. No wonder people feel so anxious, it's a lot to contend with.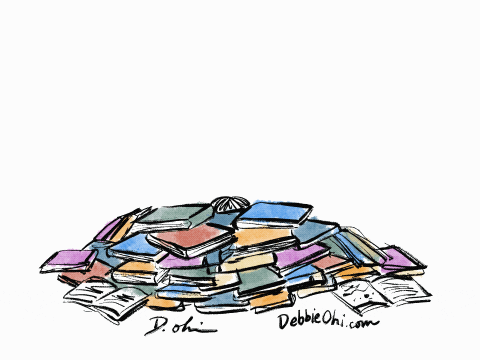 As a person, I'm pretty competitive; I'm a perfectionist and I'm always trying to get to the top. I have to remind myself that reading is personal. It can feel as though our TBRs are expanding, a bit like a hydra who grows another head when one is cut off! But, at the end of the day, let's do what brings us joy. If you want to by 4 copies of the new Sarah J Maas book – be my guest! If you can listen to an audiobook at 3x speed – your brain is a genius! If you read one book in a decade and hate it – never mind! If you don't like the latest hyped book – your opinion is valid, so own it!
As a book community, let us continue to empower all readers.