Happy Valentine's Day everyone! Normally I'm not really one to celebrate this day, but my partner and I have a bit of a tradition of buying each other a cheap little gift. My favourite has been a £5 Greggs gift card! He knows me well.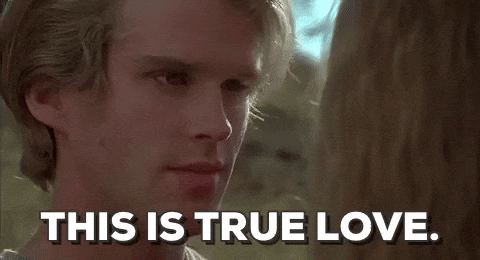 I love music as well as books and when I saw this Valentine's Day Playlist 2021 post over on itskooreviews I was really inspired and it made me want to create my own. Definitely go and check her blog out as there is some amazing content on there!
To make this playlist, I've tried to come up with 10 songs that I'd love to listen to on Valentine's Day, or that remind me of love in general. I'm also engaged and will eventually be planning my wedding after everything has calmed down a bit, so I've also been considering songs I would like played at the event. After, I then needed to think of a book-related prompt! I'm not a big romance reader and will therefore be taking inspiration from other genres, so let's see how this goes.
In case you're interested, I've linked the books on Goodreads and the songs on YouTube!
1. More Than A Feeling – Boston
I looked out this morning and the sun was gone

Turned on some music to start my day

I lost myself in a familiar song

I closed my eyes and I slipped away

A Book Which Transported Me To Another Place
Ne lache pas ma main (Don't Let Go) by Michel Bussi
The book: This thriller by French author Michel Bussi is set on the island of La Réunion. I would love to visit this tropical island one day!
The song: This is one of my partner's favourite songs and it is one that we have considered for our first dance!
2. Nothing Else Matters – Metallica
So close, no matter how far

Couldn't be much more from the heart

Forever trusting who we are

No, nothing else matters

A book with a long distance relationship
We Are Okay by Nina Lacour
The book: We Are Okay follows Marin who moves from California to New York for university after a family trauma. She leaves everything behind, including her best friend Mabel. The relationship between Mabel and Marin is gorgeous, and this book is a wonderful homage to grief and family ties.
The song: I think that this is one of the most romantic songs of all time. My partner and I did long distance for 4 years while at university so this song means a lot.
3. Here's To Us – Halestorm
Stuck it out this far together

Put our dreams through the shredder

Let's toast 'cause things got better

And everything could change like that

And all these years go by so fast

But nothing lasts forever

A Book With A Tumultuous Relationship
Normal People by Sally Rooney
The book: I know this book divides opinion, but I loved it for the relationship between Marianne and Connell. The will-they-won't-they narrative had me sucked in and I was an emotional wreck by the end.
The song: Halestorm is a band that I've come to love over the last year. I think this song is the perfect tribute to those not-so-perfect relationships that we all have that survive no matter what.
4. Love On Top – Beyonce
I can feel the sun whenever you're near

Every time you touch me I just melt away

A book which made me feel fuzzy and warm
The Rosie Project by Graeme Simsion
The book: Genetics professor Don Tillman is in need of a wife. So he sets out to find one the only way he knows how – with a survey! Enter Rosie. She is completely the opposite of what Don is looking for. Or so he thinks… Such a lighthearted and funny story, I adore it.
The song: For me, this is the only song in the history of music that actually works with a key change. I will die on this hill!
5. You're My Best Friend – Queen
You're my sunshine and I want you to know

That my feelings are true

I really love you

Oh, you're my best friend

A book with a character who would be your best friend
Eskarina from Equal Rites by Terry Pratchett
The book: Eskarina is endowed with powers by a dying wizard; however, only males can become wizards! Esk strikes out to smash the patriarchy in Discworld and become the first female wizard. She is so badass. Please be my friend!!
The song: Sometimes I think we forget that friendship is the basis of all love – well it is for me! This song always makes me smile.
6. Everywhere – Fleetwood Mac
You know that I'm proud

And I can't get the words out

A book with miscommunication
Ayesha At Last by Uzma Jalaluddin
The book: This retelling of Pride and Prejudice is the epitome of enemies to lovers and miscommunication! I thought it was absolutely brilliant and you can view my full gushing review here.
The song: Who doesn't love Fleetwood Mac? This song instantly relaxes me but I can never get the image of the moonwalking pony out my head!
7. Don't You (Forget About Me) – Simple Minds
Tell me your troubles and doubts

Give them everything, inside and out

A book where you found your own struggles reflected in it
Maybe You Should Talk To Someone by Lori Gottleib
The book: This memoir by therapist Lori Gottleib was a triumph for me. Detailing her patients and her own experience in therapy, it was a really emotional read. I read it after having completed a course of CBT myself so really felt some of my struggles emulated in this book.
The song: This song is just iconic. I only watched The Breakfast Club a few years ago – it felt a bit slow to begin with but I was soon so invested in all the characters.
8. Together In Electric Dreams – Human League
Well always be together

Together in Electric Dreams

A book that will stay with you forever
Flowers For Algernon by Daniel Keyes
The book: This is one of my favourites of all time which I reviewed last year. Charlie, who has learning difficulties, undergoes an experimental treatment, first tested on Algernon the mouse, to make him intelligent. The book explores the impact of intelligence on our happiness, and the responsibility awareness of the world around us brings with it.
The song: Another classic. I know all the words. I just now need to watch the 80s film!
9. Banana Pancakes – Jack Johnson
Wakin' up too early

Maybe we could sleep in

Make you banana pancakes

Pretend like its the weekend now

The perfect book for a lazy weekend
The Thursday Murder Club by Richard Osman
The book: I listened to the audiobook and cannot stop recommending this book to everyone! The characterisation of the crime-solving sleuth pensioners is second to none and the whole book is so humourous and twisty. A five star read for me! The second instalment is coming in September so my partner has already been told to buy it for my birthday.
The song: This song always reminds me of those lazy weekends with the person you love. Jack Johnson is such a chilled out artist.
10. Wish You Were Here – Pink Floyd
Did you exchange

A walk-on part in the war

For a leading role in a cage?

A book with a self-serving character
Such A Fun Age by Kiley Reid
The book: I read this book last summer and it was our January book club pick. The book is all about performative activism and one of the main characters, Alix, appears to be helpful but it actually only concerned with her image. A really important book for our times.
The song: This is more than a song. It is pure poetry. One of my favourite songs of all time!
And there we have it – my valentine's playlist with accompanying books! I had so much fun writing this (despite the fact after posting it the first time I found out half the changes I made didn't actually save!). I challenge you to do this – being Valentine's themed or just taking some of your favourite songs and seeing which books you're drawn to!
TTFN!